The Palataki in Limenaria

Limenaria, with the continuing settlement of Kalyvia (or St. George), is one of the most touristic developed destinations of Thassos.
The first inhabitants of the village were workers from the mountain village Kastro (Castle), in the heart of the island, which is now isolated. However, the number of inhabitants has increased with the arrival of refugees from the M. Asia.
The region flourished touristically in the beginning of 20th century, when the German company "Spiedel" began its work there, making mining excavation from the whole world, so the local harbor acquired commercial activity.
The offices of the company, known as "palataki", constitute a fine sample of the elite architecture of the beginning of 20th century, as well as a popular touristic sight with a panoramic view.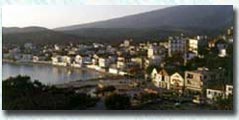 A feature of the village is the cave beneath the "palataki", the beach of metalleia with the abandoned mines. The village has also a remarkable folk art museum and a smaller private one, the museum Papageorgiou.