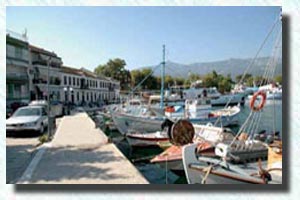 Limenas or Thassos, as it is called now, is the capital of Thassos. It is located on the north side of Thassos, with a population of 2,500 inhabitants and is the commercial and administrative center of the island.
Here is the main port of Thassos, with regular routes to Kavala and Keramoti. The coast lines are served by ferry boat and hydrofoil. KTEL of Limenas has also regular bus service for transition in any village and beach of Thassos. Also people can be served by many taxis in the town.
Limenas is divided into the old and new town. The old is the most beautiful part, where lovers of history will meet here archaeological sites with rich historical heritage such as the Ancient Agora, the Theater and the Ancient Wall surrounding the old town and a big part of the new one.
The region has many hotels, restaurants, bars, pharmacies, banks, post office, and also beautiful beaches nearby, such as Makryammos, an excellent sandy beach with clear water to the east of Limenas.
"Limenas, The current capital of Thassos…"